November 13th, 2007
Since many of you work or aspire to work in creative fields, I thought you'd get a kick out of my latest "How'd you land that great job?" Seattle Times story, which profiles Roberta Browne, lead animator at Bungie Studios, maker of Halo. I think Roberta's career path is particularly interesting because (a) she initially struggled with how to turn her talent/love of illustration into a viable career, (b) she tried her hand at freelancing and realized it wasn't for her, and (c) she has an enviable position in what's traditionally been an ultra-male field. So, without further adieu, some excerpts from my interview with Roberta…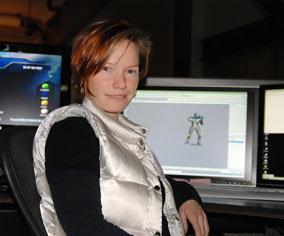 The job: Roberta Browne grew up on what she refers to as "a steady diet of Looney Tunes cartoons and 'The Wonderful World of Disney.'" All her spare time in high school was spent drawing cartoon characters, all her notebooks were covered with doodles. After getting a commercial illustration degree at Ontario College of Art and Design in Toronto, she tried her hand at freelance illustration for two years — and wound up earning the bulk of her income by waitressing and bartending. Feeling off her game, she returned to school for animation and, upon graduating, landed her first job as an animator. A decade later, in May of 2007, Browne joined Bungie Studios in Kirkland, Wash., where she works as a lead animator, a job that involves everything from 3-D software to brainstorming sessions to pratfalls.
Q. How did you land your first game animation gig?
A. I studied animation at Sheridan College, located in Oakville, Ontario. Every year the school would hold an open house to showcase the work of the graduating students. There was usually a big industry presence, with representatives ranging from small post-production shops to big movie houses to game companies from both Canada and the United States. After graduation I was offered a job at a small post-production house in Toronto, creating animations and effects for various TV shows.
I was contacted a few months later by Broderbund, a game company located in the San Francisco area. One of their lead animators had attended the open house and seen my reel. I was offered a job. I have to admit, the initial draw of living in California overshadowed the opportunity to work in games. I wasn't really sure what was involved in being a game animator, but I thought I could figure it out. What I discovered is that animating for games is an exciting, challenging and extremely rewarding job.
I worked at a couple of game companies in California before moving up to Seattle in 2003. Over the years I worked my way through the ranks, starting as an animator, working up to senior animator and then finally to lead animator. I have worked on seven released games in my career, as well as a few prototypes that did not make it to market. Some of the more notable titles are "Buffy the Vampire Slayer" (Xbox), "Shadowrun" (Xbox 360/Vista) and, of course, "Halo 3."
Q. What does a lead animator do?
A. My role has changed from creating animation content to managing. I oversee a team of five animators. Most of my time is spent planning, problem solving, coordinating with other functional groups and working with the animation team to ensure they have everything they need to create animation content. I sit with the animation team and participate in [their] reviews of content so far, brainstorming, and acting sessions. Acting sessions involve falling onto mats, jumping, punching and so on. We hand-animate, so there's no motion-capture technology involved. We're old school in that regard.
I try to get in a little bit of animation here and there, but it is very limited. It was an interesting transition going from creating animation to helping others to create animation. But I have found it extremely satisfying.
Q: How does game animation differ from film animation?
A. Games are different than films in the sense that the animators create a bunch of smaller pieces of content that are then combined in the game engine. In film, animators work on shots or scenes and animate all the motion from start to finish. So a game animator needs to collaborate with other disciplines. That's what I love about working in games — it takes art, design and engineering working together to fully realize and bring a game character to life.
Q. Are you a gamer yourself?
A. I do play games outside of work, about three to five hours a week. But I do not consider myself an avid gamer. My passion lies with animation and bringing characters to life. A lot of my free time is spent taking figure drawing and figure sculpting classes at a local art school. This keeps my observational eye sharp, which is a skill I use on a daily basis as an animator.
Q. What advice can you offer hopeful animators?
A. There are so many schools offering animation courses. My advice to those looking to pursue a career in animation is put your focus on learning how to animate. Many schools focus more on teaching different software, and it is fairly easy to get a character to move around. But to have that character act and emote is the real trick. Look for the schools that offer training in animation principles and acting. Having a solid understanding of the basic principles of animation and acting is the key to being a successful animator. Once you accomplish that, you can work in any area of animation production.
You can read the rest of my Q&A with Roberta — complete with recommended resources for aspiring game animators — on NWjobs.com.
Entry Filed under: Creative process,Popular articles,She's the boss