December 15th, 2008
My email pal Ian Sanders and I are running simultaneous interviews with each other this week on how men and women approach the self-employed life differently and what we can learn from each other. Ian owns a creative agency in London and is author of LEAP! Ditch Your Job, Start Your Own Business & Set Yourself Free and Juggle! Rethink Work, Reclaim Your Life. He's also a dad to two toddlers. Part 1 of my interview with Ian follows; part 2 headed your way tomorrow. You can read Ian's interview with me on his blog.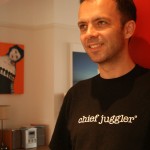 Q. Do you think men and women are driven by different factors in business?
A. Essentially I think men and women are both driven by being enterprising; they may have different approaches but they want the same goal: success.
Q. What do you think self-employed women can learn from men?
A. As soon as we start talking about gender differences we are of course generalising! With that caveat, I would say women can learn something about having guts to "just do it," which sometimes men posses to a greater extent. Having that self-belief to be bold. I think women are better team players than men, so when they are working for themselves it can be tougher if they are not part of a team.
Q. What do you think self-employed men can learn from women?
A. Self-employed men can learn a few things from women, as I think women can be more adept at juggling a mixed portfolio and have the bandwidth to handle the varied tasks. Men are better at one thing at a time (apart from me of course!). I think blokes can be good at going out and winning business but sometimes lack the ability to simultaneously be across everything, the trivial and the detail. Women can also be better team players – personally, I find working relationships with women co-workers can be more stimulating and fruitful than with men.
Q. Do you think either men or women are better (in general) at separating work and play and keeping a balance between the two?
A. I think men are better at separating work and play; women are used to mixing it all up. Incidentally I think that mixing it all up is the way forward, and I'm no good at separation.
Q. What is your single most important survival tip for freelancers and people making the leap to self-employment?
A. My single most important survival tip is Focus. Focus on building revenues; focus on one area of business at a time, then diversify and build once you have foundations in place; focus on delivery of a project. Because a project not executed is just an idea.
Entry Filed under: Balance,Q&As,She's the boss,This freelance life