July 10th, 2009
With everyone talking about career change these days, I thought it would fun to examine the work/life balance of those who've transitioned to some of the most coveted careers out there. First up, Erika Teschke, who in 2005 left her 10-year career as a legal professional to start her own dog walking and pet sitting business. I recently interviewed Erika by e-mail. Highlights follow.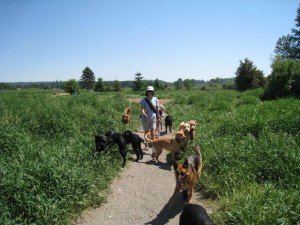 [Photo courtesy of Erika's Pet Service]
Q. What's your typical work schedule?
A. Mondays through Fridays I do dog park runs 5 hours a day, between 9 a.m. and 2 p.m. I also do about 30 minutes of stopovers during the week, where I feed and visit a pet that's home alone, either before 2 p.m. or after 6 p.m. On weekends, I'll do about three hours of paperwork and stopovers. I try not to work before 9 a.m. and past 6 p.m., but I have to be flexible on this if I have a pet that needs medicine or a walk at a particular time.
Q. How has your work/life balance changed since starting your business?
A. I definitely have more personal time now. However, the anxieties are different. Whereas being in an office made me a slave to the man, now I am responsible for everything: income, business success, client development, dog safety, responsibility as a walker, giving back to the parks I use, to name a few. I also have to be available for clients. At first I made myself available at all times when I was trying to grow the business. But now, since my clients and I have well-established relationships and they trust I will get back to them in a timely manner, I feel more comfortable making the evenings my own. I still work many weekends doing vacation stopovers. It is just the nature of the business.
Q. Still, a 30-hour workweek sounds pretty great. What's the catch?
A. I make about $25,000 less than when I worked at the law firm. [Read the rest at NWjobs.]
Entry Filed under: Anti 9-to-5 profiles,Balance,She's the boss,Working moms